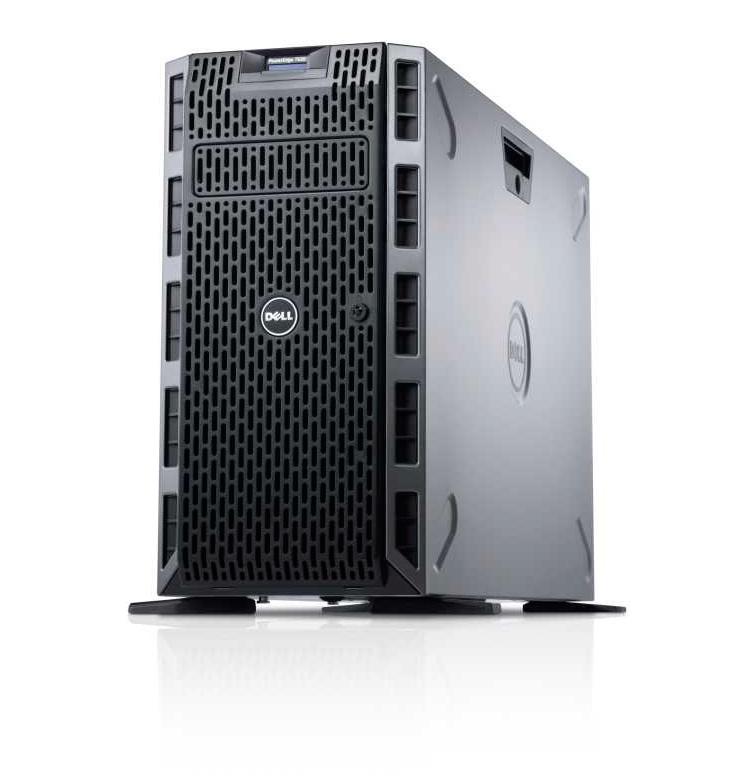 12 Feb

DELL PowerEdge T630

Descriere:
PowerEdge T630 este un server din clasa  enterprise cu 2  socket-uri, performant avand spatiu intern pentru upgrade-uri ulterioare. Destintat companiilor mici si medii Dell PowerEdge T630 suporta pana la 24 de DIMM-uri (768GB), 16 coruri (Intel® Xeon E5-2600) si pana la 48TB HDD (32 x 2.5″ sau 12 x 3.5″) cu 7 PCIe 3.0 – slots. Deasemeni Dell T630 acopera tendintele de virtualizare a mediilor de lucru si este excelent pentrul lucrul cu baze de date, servire web, sisteme customer relationship management (CRM), sisteme medicale si sisteme de securitate.
Dell PowerEdge T630 este foarte eficient din punct de vedere energetic si acustic putand fi pozitionat in birouri cu nivel redus de zgomot. T630 poate fi montat in rack.
Avand capacitate mare de stocare ofera:
– sofware-based RAID si hardware RAID controllers;
– hot-pluggable (cu deconectare la cald): ventilatoare (fans), hard disk-uri si surse (power supplies)

Specificatii tehnice:

Tip Carcasa

Tower (5U rackable)

Procesor

Intel® Xeon® E5-2600

Interconectare Interna

2 x Intel QuickPath Interconnect (QPI) links; 6.4GT/s, 7.2GT/s, 8.0GT/s

Cache

2.5MB per core; core options: 2, 4, 6, 8

Memorie

Up to 768GB (24 DIMM slots): 2GB/4GB/8GB/16GB/32GB DDR3 up to 1600MT/s

I/O slots

7 sloturi PCIe:
• Patru x16 cu x16 bandwidth, full-length, full-height
• Doua x8 cu x8 bandwidth, full-length, full-height
• Unul x8 cu x4 bandwidth, full-length, full-height

RAID controller

Controller Intern:
PERC S110 (SW RAID)
PERC H310
PERC H710
PERC H710P

Controller extern HBAs (RAID):
PERC H810
External HBAs (non-RAID):
6Gbps SAS HBA

Suporturi hard disk (drive bays)

– Opt de 3.5" inch hot-plug plus patru PCIe SSD (optional) sau doisprezece de 3.5" inch hot-plug
– Saisprezece de 2.5" inch hot-plug plus patru PCIe SSD (optional) sau treizecisidoua de 2.5" inch hot-plug

Capacitate HDD

Up to 48TB

Tipuri de Hard disk suportate

2.5" PCIe SSD, SAS SSD, SATA SSD, SAS (15K, 10K), nearline SAS (7.2K), SATA (7.2K)
3.5" nearline SAS (7.2K), SATA (7.2K), SAS (15K)
Hard disk-uri Self-encrypting (SED)

Retea

Intel Dual Port 1GbE LOM

Sursa
(power supply)

Sursa auto-ranging Titanium efficiency 750W AC
Sursa Auto-ranging Platinum efficiency 495W, 750W, or 1100W AC
Sursa 1100W DC

Disponibilitate

Eficienta inalta (High-efficiency), deconectare la cald (hot-plug), surse redundante (redundant power supplies), dive-uri cu deconectare la cald (hot-plug drive bays), trusted platform module (TPM), suport intern SD (dual internal SD support), ventilatoare cu deconectare la cald redundante (hot-plug redundant fan), capac frontal la alegere (optional bezel), information tag, memorie ECC, display interactiv (interactive LCD screen), extended thermal support,
ENERGY STAR® compliant, virtualizarea portului de retea (switch independent partitioning)

Management

IPMI 2.0 compliant
Dell OpenManage™ Essentials si Dell Management Console
Dell OpenManage Power Center
Conexini Dell OpenManage:
• Dell OpenManage Integration Suite for Microsoft® System Center
• Dell plug-in for VMware® vCenter™
• HP Operations Manager, IBM Tivoli® Netcool® si CA Network and Systems Management

Suporti pentru montare Rack

Sine glisante ReadyRails™ II ce pot fi montate in rack-uri cu prinderi in patru puncte cu gauri patrate sau rotunde.
Optional: suport prindere cabluri.

Sisteme de operare

Microsoft Windows Server® 2012
Microsoft Windows Server 2008 R2 SP1, x64 (cu Hyper-V® v2)
Novell® SUSE® Linux Enterprise Server
Red Hat® Enterprise Linux®
Optional:
Citrix® XenServer®
VMware vSphere® including ESX™ and ESXi™
Red Hat Enterprise Virtualization®


Daca doriti sa achizitionati echipamente DELL sau sa reparati echipamente DELL in garantie si post garantie va rugam sa contactati cel mai apropiat punct de lucru IIRUC SERVICE. Adresele punctelor noastre de lucru si numerele de telefon le gasiti la Contact.