03 Sep

Sistem POS 15D1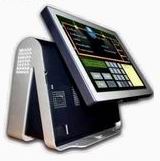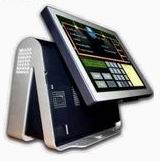 Sistem POS 15D1
Specificații tehnice:
Procesor: Intel Dual Core Celerom E1500 2,2GHz-512K L2 Cache 800MHz FSB LGA775 Pkg;
Memorie RAM: 1GB 800MHz DDR2 standard on one slot, se poate extinde până la 4GB max;
Hard disk: 1 x 2.5″ SATA hard drive, 160GB minim (Opțional disponibil al doilea hard disk de 160GB);
Sisteme de operare: Windows XP Professional preinstalat;
Display: 15″ with touchscreen inteltouch, contrast 700:1, Brightness 250nits;
Porturi seriale: 3 x serial ports, 2 x powered serial ports (5V default/12V);
Porturi USB: 7 x USB 2.0 ports;
Parallel port: 1 x Parallel port;
Ethernet Gigabit: 1 x LAN RJ45 ( Gigabit );
Cash drawer port: 1 x cash drawer (12V/24V default, selectable via jumper);
PS/2 port: 2 x PS/2 ( keyboard and Mouse );
Option: Kit MSR, Client display, Kit wireless ( 802.11g 54Mbps ).
Dacă doriți să achiziționați acest sistem POS  15D1 sau să aflați mai multe detalii vă rugăm să contactați cel mai apropiat punct de lucru IIRUC Service. Adresele punctelor noastre de lucru și numerele de telefon le găsiți la Contact.